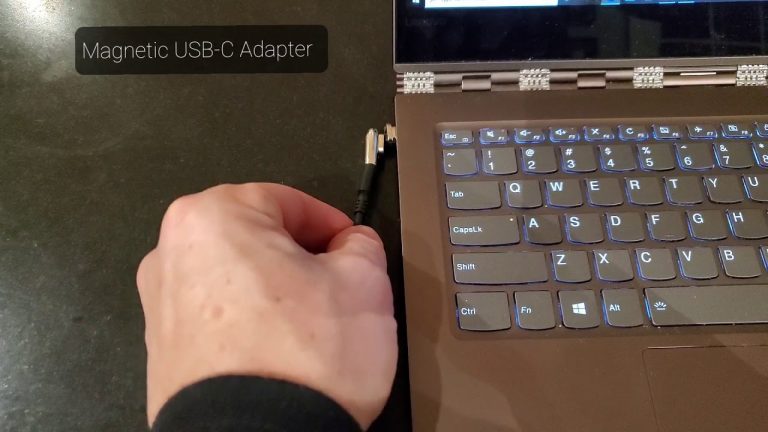 Magnetic USB-C Adapters are my new best friend!
I wish I had discovered this solution years ago.  Maybe it didn't exist then, but this is my favorite tech discovery of the year so far.
If you don't want to read, just be smart and buy this for your laptop's USB-C charging port.  Handles up to 100W so plenty for laptop.
What is it?
2 piece adapter that converts your usb-c port into a magnetic connection.  One piece goes in the usb-c port, and the other plugs into your usb-c cable.  The two piece connect with a magnetic connection instead of inserting into a port.
The Good
Inexpensive solution to save your usb-c port and charge cable from damage resulting from tripping on the cord, or accidental excessive pressure.  Also can save your charger.
The Bad
My only complaint so far is that the connection does separate with little force.  If you are using a laptop on your lap and moving around, you'll need to be pay attention to it.  it doesn't take much for it to disconnect.
If you want charging or 4k video transfer or 10gb/s data transfer get this one:


If you mostly need it for charging, 480MB/s data transfer, get this one:


Laptop & Tablet charging ports take a beating!  Tripping over the cord while plugged in can kill a perfectly good laptop and either cost hundreds to repair, or you're shopping for a new laptop. Not to mention, I've had to replace my charger on my Lenovo Yoga 920 5 times so far, 2 of which are from tripping on the cord and bending the USB-C connector.  I don't know how the port hasn't broken yet, but it's gotta be close.  The magnetic charge port on the MacBooks, was pure genius all devices would benefit from that.
I have lost at least 3 or 4 laptops, a couple tablets, and a smartphone or two all from broken charge ports.
Reasons A Charge Port Can Break
(I've lost devices for all of these reasons)
Pressure/Torque on the cable and charge port while plugged in.
Someone tripping on the cable while plugged (by far the most common in this household)
Dropping device and the plugged in cable hits the ground.
Constantly using a device while plugged in.  Unless it's flat on a table, chances are that cable is pushing up against something.  That little bit of pressure and frequent wiggling slowly breaks the charge ports solder joints or internal connections.
Wear & Tear from constant plugging in and unplugging
A Magnetic charge port adapter pretty much solves all of the above.
I love this for charging!  Sure it may pop off here & there if using it on my lap, but it's easy to stick back on and no harm done.
I'm not sure I would use for regular external hard drive connection. Occasional use is fine. While the magnet hold strong enough, it doesn't take much to separate the connection and I wouldn't want to accidently pop off the usb-c connection during transfers.  That can cause data issues.