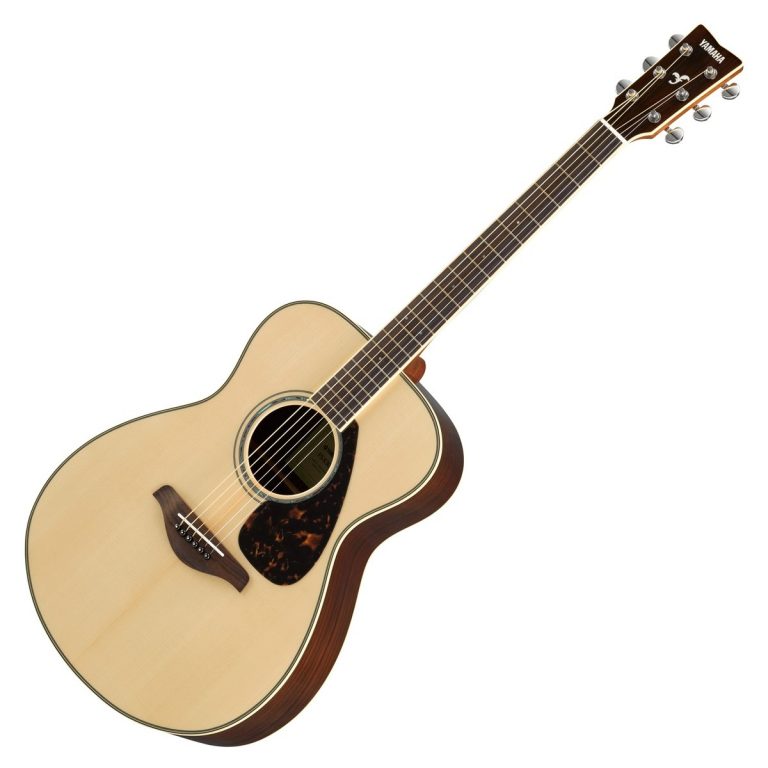 The best bang for your buck non-dreadnaught acoustic guitar
Our choice: Yamaha FS830 & FS820 (for smaller body concert size) or FG830 for standard dreadnaught body size.  For $250-$300 this just a no brainer.  If it's taken care of you can keep it an enjoy it forever.  It's not a piece of junk that you or your kid will grow out of.   The sound is very balanced and full for it's size.  The out of box playability was far superior to just about every other we tried, with the exception of the Taylor GS-Mini.
Note on the FS800 ($199):  The one they had in the store, which I watched them remove from the factory box, was significantly lower quality than the 820 or 830.  The finish on the neck, heel, and headstock was awful and it made it very unpleasant to hold and play.  The aesthetics were not as nice either.   If I can find another FS800 in a store I will check it out and update this if it's better.  Maybe that was just a dud.
If you don't really care about the details of the quest and just need a final answer on what to buy yourself or your kid for a first acoustic guitar, then just buy this.
Yamaha FS830
$300 (does not come with a case or gig bag. will ship in the factory cardboard box)
Solid Spruce top and laminated rosewood back & sides.

or
Yamaha FS820
$260
Only difference is laminated mahogany back & sides.
WHERE TO BUY GUITARS
That could be an entire post in itself.  It's always great to support your local music shops, and many of them have very competitive prices.  What many of them lack is options and inventory, that just can't be matched with online.  Also many of the guitars have been hanging on the wall for quite some time and have been played by hundreds or thousands of people, who often don't treat them gently.  Just about every time I am in a shop I hear people grab guitars off the wall and bang them into things. You are basically buying a used guitar if buying from the wall or a busy store, but many shops have popular items in boxes out back.  And most shops will not take it back once you leave the door.
I used to cringe at the thought of buying a guitar on line, but have recently been more open to it.  As long as the return policy is good.  I've found Amazon to be more accommodating when you purchase items fulfilled by amazon, rather than through a seller in their marketplace.
Sweetwater is a great online shop.
WHY I BOUGHT THESE GUITARS FROM AMAZON
My preference typically is to buy instruments from brick & mortar shops, and especially acoustic guitars, which are hyper sensitive to quality and environment.  This guitar is currently hard to find in shops or in stock anywhere, but a few online shops and amazon, so I gave a Amazon a try on this one and bought 2 of 'em.  Amazon has a new thing called Harmony and while I'm not sure exactly what it's purpose is, but I called the number and they emailed me a code for 10% off.  It took less than 30 seconds.  So the FS830 was $270 with the amazon harmony code, which was the lowest price I found anywhere.   There return policy is good and they cover shipping, so it's a low risk.   I have used Amazon before for acoustic instruments and any issues have been manufacturer issues, not amazons.  They came well packed in their factory boxes.
What Other Models Were Considered
About 5 different Breedlove Pursuit Concert CE.  I had a chance to get a B-stock with some finish issues for a really great price, and while it was pretty nice, it felt and sounded dead compared to the Yamaha FS820 that I was playing in the store.  The Breedlove was much heavier and thicker, had a cutaway, built-in electronics and it felt solid and well constructed.
Taylor GS-Mini:  This is a fantastic guitar and I want one, but at $500, I wouldn't consider it great guitar for new players.  For established players, this is a fun and beautiful sounding no-frills small body Taylor.   Now, a well kept used GS-Mini vs a Yamaha FS830 might be a tough choice for about $100 difference in price.
A few other thin body Yamahas that I was not impressed with and has no projection at all.  Some didn't last more than 5 seconds and 2 chords in my hand.
Gretsch G9521 – This was actually a nice little 000 for $350.  Great finger picker, but not one I'd recommend as a first and all around guitar.
Epiphones:  I've played many decent epiphones. On this particular day, there were none that made the cut.
I wasn't interested in a dreadnaught this time around.  They generally have fuller sounds, but these smaller body sizes are great for the couch and younger players, and some of them sound really nice.  For comparison, I did also try out the dreadnaught version of the Yamaha, which is the FG-830.  No complaints there.  It sounds great too, and if you are looking for a dreadnaught body, give it a try.
I generally avoided certain low end names and stuck with the well known brands.