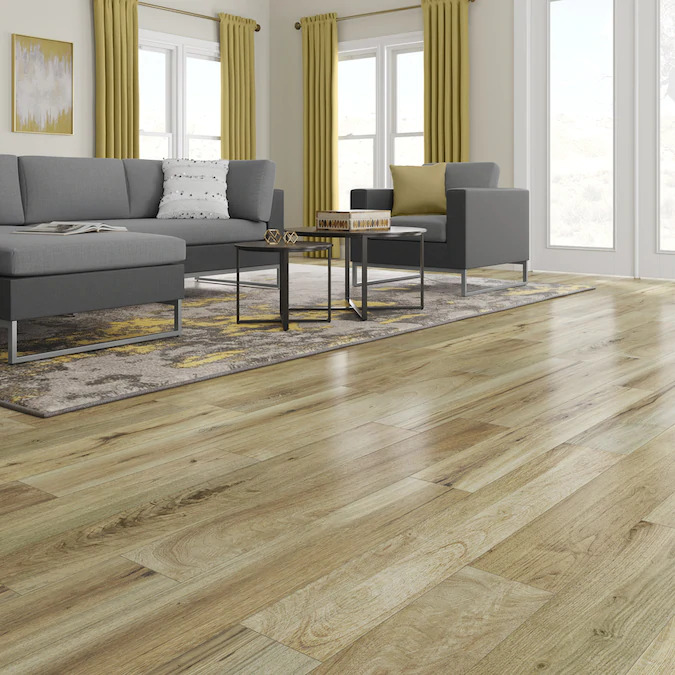 If you've been on the fence trying to decide on a waterproof vinyl plank floor, put the SmartCore Pro on your list.  Note the "Pro" version is important!
Why SmartCore Pro
Easier installation
Tight joints.
Thicker wear layer. Commercial durability.
Thicker base pad
Wider planks (7″)
Core material is less brittle.
Easy to cut by scoring and snapping.  No saw needed for basic cuts.
Waterproof
Lowes SmartCore vs SmartCore Pro (get the Pro!)
Install Location:  Unfinished basement with concrete floors.  I had done some research on the SmartCore flooring and was planning on buying the LifeProof waterproof vinyl flooring at HomeDepot.  That was the one that originally drew me in, but after seeing them both in person I preferred the look and texture of the SmartCore vinyl plank at Lowes.  It has slightly more texture to it and beveled edges and seemed a little more authentic.
I found a couple of nice patterns of the SmartCore and the SmartCore Pro.  I really wanted the less expensive one to work.  The price difference is about $1/sq ft.  $2.78 vs $3.69 sq ft..  I grabbed a few boxes of each product to bring home and try first.
After laying down a small section of each, it didn't take long to declare the SmartCore Pro the better product.  It costs a little more, but is worth the frustration you'll save on install and will have less damaged product.  Both the SmartCore and the SmartCore Pro have beautiful patterns and seem very similar, but there are some important differences in the two.
Installation is easier with the Pro!  The key difference is that the short side joint doesn't need to be angled in with the Pro version.  Angle it into the long side, give it a few taps to seat it, then Lap it over the adjoining short side joint and a few solid wacks on the seam with the rubber mallet snap them securely in place.
The regular SmartCore require the long side and the short side to be angled in, and it's surprisingly difficult to get both to lock in perfectly and stay that way while you add in  new planks.   In the time it took to get 2 or 3 planks locked in on the 2nd row with the regular, I was able to put down 15 or so of the Pro.
Core material is very brittle in the Ultra.  Pro version is much more durable and can handle rubber mallet taps and blows during installation.  The core material is different.  Several pieces of core and joint on the ultra broke with very little force.
Wider planks.  The Pro planks a 7″ vs 5″ regular SmartCore planks
Cutting
For cutting planks downs to size at the ends of a row a saw is not needed for most cuts.  Get a good utility knife and a swanson square or straight edge.  Give it a couple clean scores on the top side of the plank, then flip it upside down and snap it.   It should give a nice clean break.   Out of  about 25-30 boxes I think only one didn't break cleanly and that was due to a bad score on my part.  A few thin pieces needed a chop saw and a band saw & jig saw helped with a few specialty cuts around things.  The material cuts easily so any tool should handle it.